"One of the best parts of being a fishing guide is teaching. Being able to help others learn the sport is extremely satisfying."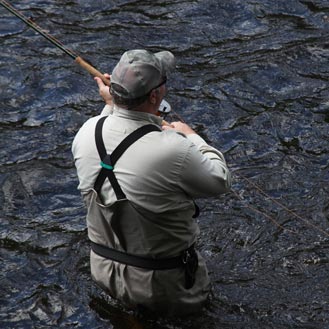 Professional & Licensed Guide
I have been fishing & guiding on the Salmon River and its surrounding tributaries for a number of years, specializing in Spey fishing and Fly fishing.  I have been an instructor at the Orvis Spey Casting School in the Gaspe, Quebec.  On our trip you'll learn the tips and techniques that have taken years to acquire so you can catch these World Class fish on your own.  You'll learn how to read water and recognize fish habitat, right down to fly selection and terminal rigging.  You will receive 100% of my attention during our time on the water. My policy is to focus on the client and I do not fish when I am guiding.
"My dad and I had a blast fishing with Paul last year. He is one of the best guides on the salmon river and all around great guy. We have fished the salmon river for several years and decided to book a trip with Paul for a change of pace. …Paul had us on fish instantly and shared a wealth of knowledge one can only get by putting in a lot of hours on the river. I would highly recommend a trip with Paul if you are beginner and want to learn the river, or a seasoned angler who just wants to fine-tune your skills. The fish are a bonus."

Mo
My buddy and I are fly anglers; we have been coming to the Salmon River for the past five years, and we've had awful luck. On year two, we booked a guide, and had a terrible experience. We did not get the person we thought we were booking with; camped out the entire day in the upper fly zone, and hammered the same run all day. So, we were skeptical when we decided to give a guide another try. After doing some research, I gave Paul a call, and after getting off the phone, I was optimistic that this was going to be a much better experience. I'm happy to say it was, and that Paul is a superb guide. We fished with Paul on November 22, 2013. He is a friendly, relaxed, and professional fishing guide. His knowledge of fly fishing for steelhead, and of the river, is incredibly impressive. His gear, flies, and equipment are all excellent. He brought along some switch rods that were strung up Skagit style, showed us some spey techniques, and we played around with them for a bit, which was fun; Paul is also an expert spey fisherman. However, what struck me most was how hard Paul works; he is absolutely determined to get you into fish. After five years of steelhead despair, we finally got it done. This would not have been possible without Paul, and I would not hesitate to use him again, or to recommend him to anybody making a trip up to the Salmon River.

Jim M.
Paul is the best guide on the river hands down. He doesn't fish, YOU do. He knows the spots, nets, teaches, and is/does everything a guide SHOULD be and should do. I would be completely clueless on salmon river without his guidance. Not to mention he is one of the nicest guys I have ever met.

Kyle U.